Auroras from 2001, Auroras from late 2002, Auroras from 2003,Auroras from 2004, Auroras From 2005

March 23, 2002 Auroras
Upon coming home at about 1AM I checked spaceweather and then checked the Kp index of strength. Activity level was at about 5. To have a chance to see them here the level needs to be about a 5 or a 6. After thinking about it for a little bit I decided to head out to my favorite spot for shooting the lights.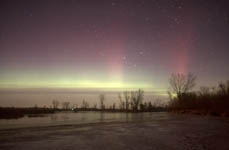 After a while I noticed frost was accumulating on my camera, angle finder, lens and ball head. My breath was putting a layer of frost on everything! After that I was more careful looking through the viewfinder. I also started checking the front element of the lens before every exposure.
Soon after this last shot the display started to weaken. It was interesting to watch it pulsate across the sky. Also about this time it was starting to get light in the East. I finally packed up at about 4:50AM.

April 17, 2002 Auroras
I will never pass up a chance to shoot auroras given that Solar Max will soon be over. This was also my first opportunity to try out the EF 28mm f/1.8 that I recently picked up from ebay. I got this lens to reduce my exposure times from 90 seconds with the 24 and 28-135 at f/3.5 to only 20-25 seconds at f/1.8. It performed great.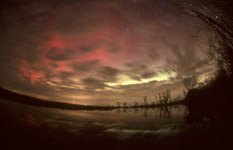 August 2, 2002 Auroras
After nearly two months without seeing auroras, an unexpected, small geomagnetic storm occurred. It occurred the night of August 1 thru the early morning on the 2nd. These were all shot north of Oshkosh between 1AM and 3AM on the 2nd.
I did catch a few Perseid meteors while shooting the auroras.

Learn how to shoot auroras.