Auroras from 2001, Auroras from 2002, Auroras From late 2002, Auroras from 2004, Auroras From 2005

July 12-13, 2003 Auroras
Just a small display from my spot near Lake Poygan.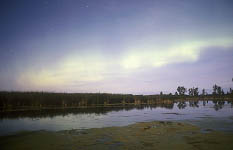 August 18-19, 2003 Auroras
Taken from my usual spot by Lake Poygan. This time I did not have any 35mm Provia 400F so I had to resort to using 120 400F pushed to 800 in my Pentax 645 camera.

September 17, 2003 Auroras
A modest and short sub storm that occurred between 11:45PM and 12:00AM CDT. All images were shot with a Canon EOS Elan 7, 28mm at f/1.8 with Fuji Provia 400F film. Exposures were between 15 and 30 seconds.

Auroras from 2001, Auroras from 2002, Auroras From late 2002, Auroras from 2004, Auroras From 2005