Home Hit your BACK button to return to a previous page
Angle Finder C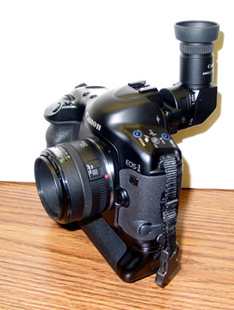 This attaches to the viewfinder to convert the camera to right angle viewing. It is a godsend for low level shooting.
It comes with two adapters to fit all EOS cameras and some FD cameras as well. The Ed-C adapter fits the EOS-3, EOS-A2/A2E/5, EOS-Elan II/IIE/50/50E and the IX series. Adapter Ec-C fits all other EOS cameras including the 1 series (including F-1) and older stuff.
It comes packaged with a nice nylon pouch to hold and protect it. (It costs over $170.)
The angle finder lets you view from 90° and all the way around in 45° increments.
It also lets you zoom in on the central portion of the viewfinder by 2.5X for critical focusing.