Ouray
Near Ouray
If you've come to shoot wildflowers in Yankee Boy Basin or any of the surrounding areas, Ouray (pronounced "oo-ray") will most likely be your base of operations. I spent 4 nights here and I stayed at the Amphitheatre Campground run by the National Forest Service. I had reserved my site many months in advance at http://www.reserveusa.com.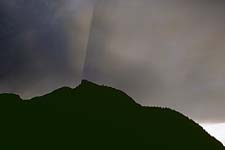 Near Molas Pass
Driving along Hwy 550, aka "The Million Dollar Highway" in this area between Ouray and Silverton, there are many turn-offs which can provide opportunities to shoot wildflowers, waterfalls and a few lakes. I stopped at most of them...
Yankee Boy Basin
Every July this area becomes a haven for landscape photographers. The reason for this is because Yankee Boy Basin has one of the best wildflower displays Colorado has to offer. To get to this area you will need a 4wd vehicle with lots of ground-clearance. It is on a rough gravel road just to the south of Ouray. I used 4wd almost the whole way until the trailhead for Wright Lake at which point I decided to hike. The road is VERY bumpy and you will have to ford a few very small streams.
All of these images were taken along the trail to Wright Lake.
More Colorado Galleries:
Rocky Mountain National Park, Maroon Bells, Mt. Evans