Non-photographic Tools for the Photographer
Nothing on this page is for sale, this is just equipment that I use and report to you.
Much of the equipment on this page is lightweight camping gear. Excellent choices for the backcountry photographer. All of this equipment I have used and lived with.
Kelty Windfoil Ultralight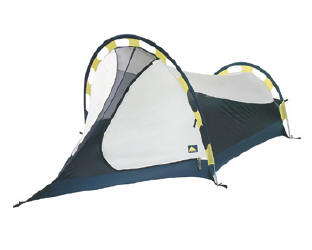 <-image from the Kelty website.
This tent can be packed small and weighs under 5 pounds which makes it ideal for shooting in the backcountry. This will be my primary residence this summer for my trip to Colorado.
(April 6, 2001) I can set this tent up in about a minute. Although small, it is roomy enough for me and my equipment.
(May 26, 2001) Make sure when using the rainfly to open the vent on top. Otherwise moisture will have no place to escape and collect on the ceiling and eventually drip on you.
(July 1-16, 2001) This tent stood up to rain and storms everyday that I was in Colorado. I stayed dry as well as everything else I placed in the tent. I wish it had a little more room though.
Kelty Vortex 4
<-image from the Kelty website.
I needed a little more room. This is a nice roomy 4 person tent with two large vestibules for packs. Like the Windfoil, this tent is very waterproof out of the box. It rained one entire day in Munising Michigan. My tent was in a two inch puddle of water by mid morning. When I returned in the evening, it was dry. Simply awesome tents.
Western Mountaineering Mitylite™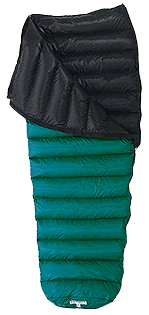 <-image from the Western Mountaineering website.
This bag is part of Western Mountaineering's EXTREMELITE™ series of bags which use ultra light materials. All of the bags in this series can easily be identified by the suffix Lite.
An ultra light semi-rectangular bag weighing in at 1 pound 10 ounces. This bag is rated at 40°. Western Mountaineering also has a 1 pound mummy bag called the Highlite™ but I chose this one because it is a little longer and gives me more room to move. The Mitylite also compacts into about the size of my 300 2.8 IS (but a lot lighter).
This bag is extremely warm. Many nights in Colorado I slept with the foot box zipped open to release heat.
In Upper Michigan and at Point Beach State Forest where the Fall temperatures dip into the 30's and 40's the Mitylite performs flawlessly.
It is very soft. When pulled from it's stuff sack it literally inflates.
Kelty Light Year 45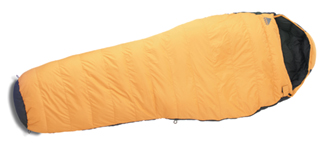 <-image from the Kelty website.
An ultra light mummy bag weighing in at 1 pound 9 ounces. About 1 oz. lighter than the WM Mitylite. This bag as the name suggests, is rated at 45°. It also compacts a little smaller than my WM Mitylite.
Mountain Safety Research (MSR) Superfly Stove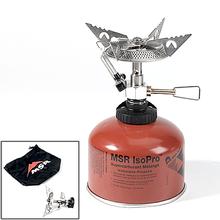 <-image from the Mountain Safety Research website.
With the appropriate MSR fuel this stove warms food very fast.
It even stores in my MSR cooking pan in it's own stuff sack.
Water Filter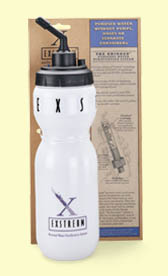 <-image from the EXSTREAM website.
Do you have a long hike? Does water weigh you down? A water filter is the answer. Not one of those cumbersome pump ones, but a water bottle with a filter in it.
Just dip it in any stream or lake and drink away.
I personally got the EXSTREAM Orinoco for just this purpose. It filters out just about everything.
It only weighs 8 oz. empty and 26 oz. full. A lot better than dragging along a few heavy bottles of water. (Provided there is a water source along your route.)
Leatherman Multi-tool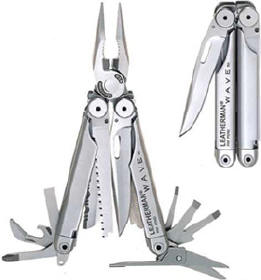 <-image from the Leatherman website.
Per square inch these tools have so much functionality everybody has to have one of these hanging from their belts or in their pockets or in their camera bag. The one that I have is called the Leatherman Wave. It is their top of the line tool. It has serrated and flat blades, a file and a saw. That's even before I've opened the thing. Inside it has a pliers, cross point and flat head screwdrivers, scissors and a bottle opener.
Petzl Tikka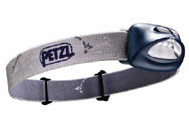 <-image from the Petzl website.
A super-light headlamp that has replaced my Maglite©. It can be had for about $49. It has a super-bright white beam of light.
Any Flashlight
<-image from the Maglite© website.
Preferably a small lightweight one. I use a Mini Maglite© Flashlight 2-cell AA with an orange filter to preserve my night vision. Keep it in your bag for hiking to locations in the early morning or to find you car after a sunset shoot. Also keep some extra batteries for it.
Plastic Garbage Bags
Protection from sudden rainstorms. Wrap a few in some rubber bands and stick them in your bag(s). They don't take up much space and only add a few ounces.