Home Hit your BACK button to return to a previous page
TC-80N3 Remote Cord
This was previously in my review of the 1V but I felt it needed its own page.
This is the Rolls-Royce of remote cords! It currently costs $149.95 at Calumet. This one can do almost everything.
It can be used directly with the EOS-1V, EOS-3, EOS-1D, EOS-D2000 and the EOS D-30. With an adapter you can attach it to older EOS cameras with the T-3 socket.
Things you can do:
You can set long exposures up to 99 hours. Handy for astrophotography.

You can set a self timer to go off in 99 hours if you want to wait that long.

You can set an interval between exposures up to 99 hours.

You can set how many shots to take for an interval.
You can use any of these settings with each other.
For example: If you wanted to take 10 shots at a 2 minute exposure, 5 minutes apart and not start the sequence for 25 minutes you could.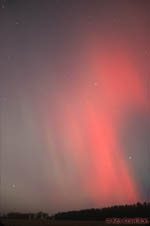 Taken with the TC-80N3 set for 1 minute and 30 seconds.
It is also a normal remote cord if need be... With a locking release.