Home Hit your BACK button to return to a previous page
Canonet G-III 17 QL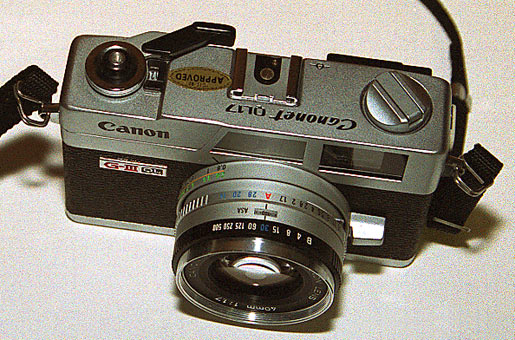 Canonet Series
The Canonet. In 1961 this was Canon's first intermediate class lens-shutter camera. It had shutter priority autoexposure and a 45mm f/1.9 lens. There was also the Canonet Junior which was smaller and had fully autoexposure which was followed by many more Canonets including my Canonet G-III 17 QL which was the second to last new Canonet model preceding the Canonet G-III 19 QL which had a 45mm f/1.9 lens.
First, the G means that the camera was a "grade up" which meant that it was improved from the previous models. The III stood for being the third generation Canonet camera which included the Canonet and the New Canonet. The QL stands for the fact that this camera has a quick loading feature where you just put the film in, and lay the leader over to the other side, close the back and start advancing. That is all there is to it.
I got this camera for only $20. It has a 40mm f/1.7 lens (thus being called the QL 17), shutter priority, and can take the Canolite D flash on it's hotshoe. Focusing is via a slider on the left side (from the back) of the camera and when you focus you have to make a normal image and a yellowish image converge in the viewfinder. It has an easy to use battery check button which when you push it a blue light comes on telling you that the battery is good. On the left side you can also plug in an off-camera flash via a PC port protected by a little cover that slides out of the way.
The camera is small and lightweight despite it's made of metal. The shutter is quiet and the film advance and focus are very smooth. A nice stealth camera or one for strolling around downtown doing some street shooting (that's almost what I feel like doing now that I have this camera).